Touch Bible Free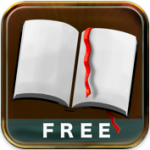 1.0 out of 4 stars –
We really need more than this.
Touch Bible Free by Patrick Franklin leaves so much to be desired. The app is truly barren, with limited features.
Upon opening the appIication I was shown (no surprises here) Genesis 1:1. A menu bar across the top presented 6 buttons: Back, Bile Search, Extras, Menu, Forward. The "Bible" button opened…you guessed it: The Bible. If you were already in the Bible and tapped the button, a little "Dial-a-verse" feature popped up on the bottom of the screen. Search functionality is basic, with options for the Old Testament, New Testament or All. "Extras" required a connection to the internet, and brought up a study wiki, reading plans and a couple other options, including a link to buy "Touch Bible Loaded".
The customization options for the user are, frankly, pathetic. The only options are "Day Mode" (black text on a white screen), "Night Mode" (white text on a black screen) and an option to change font size. "Night Mode" was particularly headache inducing. It didn't look like E-Ink, just a dark black screen with white text.
List of Features
Dial A Verse – Touch Bible's way of looking up scripture FAST (great for church).
5 Translations included (New English Version w/study notes included, King James Version, American Standard Version, World English Bible and Young's Literal Translation)
Note keeping
Search functionality
Adjustable font sizes
Bookmarks – Click the verse number and that verse is bookmarked for quick access later.
Pros
With the New English Translation, study notes are included in the text which make it easy to tap and get a little further insight into what you are reading at the time.
The Bible Study Wiki, under "Extras" had enough to make the pro list, but it's almost a con. I see what they were going for, but it feels like they missed the mark. There is some good information, but the implementation is poor and the interface lags a lot. But, the information is there and some of it is quite useful.
Cons
The application only offered 5 translations, and no other books in the library.
There is no ability to highlight text in the Bible. The only options are to write notes, or bookmark the verse.
Very laggy. I found the interface to be sluggish and unresponsive. I haven't had this problem on my iPad with any other applications. I'm not sure this is the developers fault, but it definitely had a negative impact on my experience with the app.
Night mode…seriously? Don't even bother. The white text on a jet black screen was dizzying.
Cannot highlight text or change fonts.
The interface was so confusing I couldn't figure out how to change translations. Not that I had many choices (see the first "con" above).
Conclusion
This is by far the one of the poorest apps I have ever used on my iPad. Poor implementation, confusing interface and lack of content doom this app for quick deletion.
1.0 out of 4 stars