PocketBible Free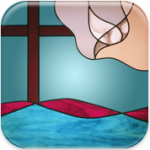 3.5 out of 4 stars – 15 voted
Simply put…excellent.
The PocketBible Free application for iPad is everything I wanted in a Bible app. It was also a lot of things I didn't know I needed. I found the application feature rich and implemented almost perfectly. I say almost only because I hesitate to call anything "perfect". But PocketBible Free for iPad comes darn close.

Upon opening the appIication was greeted with…a welcome screen! This is something I haven't seen in any other apps, and something that I thought was sorely missed. The welcome screen starts by introducing the user to the navigation system within the app. Tapping the center of the screen displayed a "navigation overlay", which shows exactly what a tap in each area of the screen will do. The user is prompted to create an account with Laridian. This gives access to some free books (the app only comes with KJV of the Bible and a user guide). The books must be downloaded from the internet, but once they are, internet access is not required to use them.
[ratingbox]
Along the bottom of the screen is an extensive menu bar for opening new books, going straight to a chapter and verse, back or forward buttons and "Today" for the daily devotional. One thing I found lacking…a reading plan. The toolbox menu item allowed me to see my highlights, notes, search and bookmarks. "Display" allowed me to change the display of the text, including font, size and brightness. There was also a settings button with extensive options, and a help button. More on that under "Pros"
List of Features
Easily switch between any number of open Bibles and books
View multiple books at the same time. (PocketBible allows up to 5 books to be shown on the iPad.)
Easy Bible navigation by quickly selecting book, chapter, verse
Highlight verses in a variety of colors
Set bookmarks on your favorite passages and create categories to organize bookmarks
Fast searching for words, phrases, and combinations of words/phrases
Indexed search results so you can quickly move the the results you want to see in any book
Easy tap/gesture system for moving around in your Bibles and books.
Create your own notes on any Bible verse. Cross references in your notes are automatically linked the the Bible. Notes can be plain text or include HTML tags for added style
Copy and paste to clipboard and to other apps. Include your own notes with verses to be copied
All on-screen controls can be removed for for full-screen reading in either portrait or landscape.
Select from numerous display options including the ability to use any installed font in any size from 8 to 72 pts
Rotation lock – read in bed or while standing on your head
Extensive built-in help for all program features
Pros
As you can see from the "List of Features", there isn't much Laridian missed in this app. The user has almost complete control of every aspect of their experience, with the opportunity to customize to your own liking.
Tap and hold on a verse to highlight it in a variety of colors. In the "Toolbox", your highlights are viewable based on their color. Very helpful for topical studies.
Display up to 5 different panes, each with a different book. Tapping on the title in each pane will bring up the option to change which book is displayed in that pane.
Text is so easy to change, I found myself changing it just because it was simple and so accessible. 1 tap on the "Display" menu item and I was scrolling through a variety of fonts and sizes. I could also change brightness from this view.
The "Help" button brought me to the PocketBible User Guide, and extensive text detailing the workings of the application. An unfamiliar user could spend 10 minutes reading and come out with a good understanding of how the app worked and its core functionalities.
Backup data to Laridians server. This allows you to save all your notes, highlights, bookmarks and other stuff. Depending on how many notes you take, this could be invaluable.
Cons
The application had less options for different translations. There are 10 available, so it's almost nitpicking. But the most serious of scholars may find the app unsuited to their needs because of this shortcoming. I would venture to say that 99 out of 100 people will find the available translations sufficient.
A bit of a more serious problem is the lack of a daily reading plan. Several other Bible applications include multiple options for reading through the Scripture in a year or some other specified amount of time. I don't really see any reason why they couldn't have included that feature in this application, and it is the only serious downside I saw in the whole application.
Conclusion
This application is implemented in excellent fashion. Right now, I would say it's the app to beat as far as Bible software on your iPad. Extensive features, customization of the user experience, internet-free utilization of all the resources the app offers and an unparalleled approach to guiding the user through the application make PocketBible Free a pleasure to use.
3.5 out of 4 stars