Olive Tree Bible Reader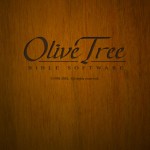 2.5 out of 4 stars –
The Olive Tree Bible Reader app has many useful features, including verse chooser, search, split-screen reading, favorites list, full layout customization, hyperlinked and personal notes. Unfortunately their implementation is lacking. Over all this is a decent app, with everything you would expect from a bible reader. What it doesn't do is give you any reason above that it's an iPad to switch from your paper bible.
First Impressions
Nothing stands out.
When I installed the Olive Tree Bible Reader app onto my iPad, I had high hopes. I was hoping for something, although I couldn't quite put my finger on it at the time. The Olive Tree app wasn't anything I didn't expect, yet it failed to meet my unspoken expectations.
When I first opened the app, it defaulted to Genesis 1:1 (American Standard Version). No introduction screen, no tour to show me its features. The text was easy to read, and upon some investigation, I found it simple to increase or decrease font size. All the basic features you would expect are up at the top bar, which displays icons for viewing and setting bookmarks, making notes and highlights, a daily reading calendar and a link to the library to view your books and a bookstore to purchase different versions. It comes standard with 2; King James Version and the aforementioned American Standard Version.
List of Features
Verse Chooser – Allows quick navigation to any verse in the Bible (This is very well implemented)
Search – Looks up every occurrence of a word in every book of the Bible, or by New/Old Testament. I give a little more detail about search, and why I don't like the implementation of it in this app, below.
Split-Screen  – Lets you view the Bible and reference works at the same time.
Favorites List – A handy way to keep track of your most used resources for quick access
Full customization – Allows changes to the fonts and colors of the main window, the split window, and the popup window independently
Hyperlinked Notes – Cross-references or Strong's numbers available with one touch
Personal Notes – Can be accessed by verse in any Bible version across your library and synced to your desktop with Evernote
Pros
Verse chooser is a quick, simple and beautifully implemented way to navigate directly to a specific verse in the Bible. Select the book, it automatically prompts for a chapter. Select the chapter, and it automatically prompts for a verse. Seamless, fast, and super easy.
The text looks simple, and is easy to read. Fonts and colors can be changed. It can be justified in the columns, or set to display a new line for every verse. I used the app mostly on the latter setting, as I found it easier for my eyes to follow.
Evernote: The app uses Evernote note service for backup and restore purposes. If you sync your account your notes, highlights and bookmarks should be backed up on the server. Should anything happen, you won't lose your hours and hours of notes.
Olive Tree Account in the settings menu allows you to join books from multiple Olive Tree iPhone BibleReaders, making other versions you have purchased available on your iPad, iPhone and other iOS devices.
Cons
I felt it would have been very beneficial to me as a user to have some sort of introduction or tour page come up when I first opened the app. Instead, I had to mess around to figure out where the settings were, what they were used for and how to optimize my experience. Using the app for a while allowed me to familiarize myself with the settings, but it would have been nice to know the limitations and capabilities of the app right off the bat.
Split Pane, which allows you to open up a split window pane and display the same, or different text as the original window, seems poorly implemented. The usefulness of it is in utilizing a study guide while reading scripture, and I can appreciate the idea. However, the pane defaults to "Synchronize split windows"…doesn't that defeat the purpose of having a split window if you are going to be looking at the same thing? It wasn't until I dug through the settings that I was able to figure out how to change it, and it wasn't a very user friendly interface in this writers opinion.
Search is conveniently located on the top menu bar. However, after performing a search on "Love" I couldn't figure out how to display the search results in one pane while saving my place in scripture on the other pane. I finally closed the app, and when I opened it again, it defaulted back to Gen. 1:1. Yet when I opened the second window pane, there were my search results. Search results are saved as a book in the library, which I thought could be a pro and a con at the same time. I don't like having to go back and delete all my searches, but I can see how it would be helpful to some.
Conclusion
Upon reflection, I think what I was hoping for when I installed the app was an enhanced experience with reading the scripture. I could see myself taking this to church instead of my Bible, but I didn't feel compelled, as though this had given me a good reason to stop reading my paper version. Not a horrible experience, but nothing to write home about.